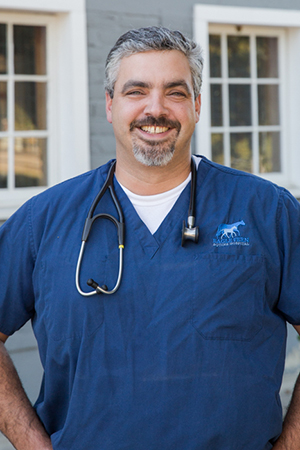 Dr. Asmar was born and raised in San Juan, Puerto Rico, interested more in swimming and Scuba diving, although always fond of horses and farm life. Through high school and college, He worked as a stall cleaner at a large Paso Fino veterinary hospital on the island. That quickly progressed to a full-time position as an overnight technician, and a profound interest in veterinary medicine as a profession.
He completed a Bachelor's degree in Biology and Animal Science at the University of Puerto Rico in 1999. Dr. Asmar moved to Manhattan, Kansas with his wife Viviana, where he earned a Doctorate in Veterinary Medicine from Kansas State University in 2004. He proceeded to complete a yearlong internship, specializing in Equine surgery and medicine at Idaho Equine Hospital in Nampa, ID.
They relocated to Oregon in June, 2005 where Dr. Asmar established himself as an associate veterinarian with Eagle Fern Equine Hospital. By the end of 2009, he purchased the practice and has focused on providing the best-quality compassionate care to his patients and clients. Personal interests include equine orthopedic and soft tissue surgery, performance evaluation and lameness, artificial insemination, stallion collection, advanced medicine and dentistry. He lives in Sandy with his wife Viviana, two kids, Andrea and Adrián, and two labs, Marley and Mavis.
Contact Dr. Asmar: d.asmar@eaglefernequine.com