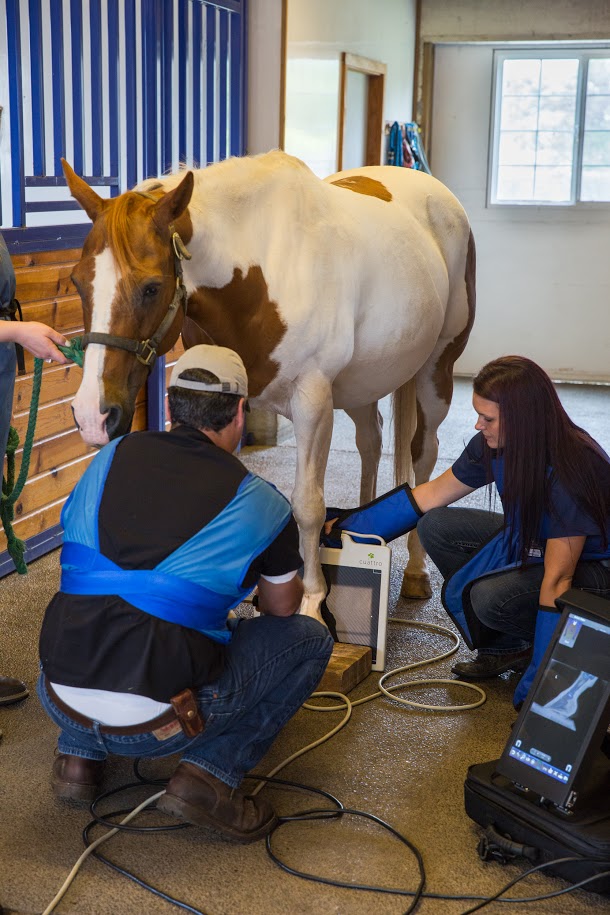 Lameness Examination
A thorough lameness examination is essential to diagnosing soundness problems and subtle decrease in performance. Because veterinarians cannot ask their patients where it hurts, they are dependent upon visual cues from the horse as it moves. A lameness evaluation includes a physical exam, palpation of the limbs and joints, evaluating range of motion, watching the horse travel in a straight line and on a lunge line and response to flexion of the joints. Horses are evaluated in both hard and soft surfaces to differentiate between bone and soft tissue injuries.
Further diagnostics include nerve blocks, joint blocks, radiographs and digital ultrasound. The initial diagnostic work-up may be performed in the field as well as in the hospital.
Complete Radiographic Services
We are proud to provide complete digital radiography services through our Cuattro Slate II System. Our true digital x-ray system produces fantastic images that appear within seconds of being taken, allowing for real time adjustments in x-ray technique to get the most information possible. This allows us to develop an accurate diagnosis and immediate treatment plan for our patients. Quality radiographs of difficult-to-image areas such as the shoulder and neck can be taken with our system, both in house and in the field. All images are stored on a cloud base server, allowing owners and veterinarians access to studies for future consults.
Radiographs for Proper Shoe Placement
There are many subtle changes that can occur over time in the horse's foot that can lead to decreased performance and lameness. Under run heels, long toes, misaligned pastern-foot axis, contracted heels and quarter cracks can all lead to chronic foot problems. Digital radiographs can be taken of the horse's feet to determine proper foot balance. These films allow us to see the relationship between the bony column and soft tissue structures of the foot, as well as determining the optimum break over point in relation to the coffin bone. We recommend that radiographs be taken annually to help your farrier place your horse's shoes correctly and achieve a proper balance. The office visit and radiographs for this purpose are discounted. This service includes a personal consultation with your farrier to establish a relationship between farrier, owner and veterinarian in an effort to achieve the best possible outcome for your horse.