Although new guidelines for parasite control in horses have been around for a few years, we still come across clients that are confused about what is the right or wrong way to deworm their horses.  For years we preached deworming every 6 to 8 weeks whenever the farrier came to trim hooves as an easy way to remember.  That protocol got modified into a program where rotation of different types of dewormers was going to prevent the development for resistance by parasites.  Research has shown that neither of these protocols were successful in preventing resistance and eliminating parasites.  Today we know that the true goal of parasite control in horses is not to eradicate all parasites from the animals, but to limit infestations so that animals remain healthy and free of clinical illness.  Secondly, veterinary medicine is seeing drug resistance, not only with antibiotics, but also with our dewormers or 'anthelmintics.'  Wide spread drug resistance is being seen across the country in all species, with all parasite types and with all drug classes.  The problem is that we do not have any other drugs to turn to when the ones currently on the market no longer work.  Scientists have been searching for years for other alternatives for anthelmintics and have continued to come up short.  So, what can horse owners do to prevent parasite resistance from developing in their animals?  The answer is quite simple, strategic deworming and managing their environment.
Strategic deworming involves taking fecal samples and testing them for the amount and type of parasites, then deworming, or not deworming, according to the specific horse's parasite load.  Just like all things in life, parasites in animals also follow the 80:20 rule, or over-dispersion.  If you have not heard of this rule then let me explain in a way all of us will understand.  In business they say, 20% of the people will do 80% of the work (sound like your office?).  The same is true for animals, where 20% of a herd will carry 80% of the parasite burden on the farm.  In veterinary medicine, we call these animals "super shedders."  These few animals act to harbor and infest your pastures with parasite eggs and infect the other animals with parasites.  The rest of the herd have a more natural resistance to large infestations with parasites and do not typically show much disease from parasites unless they are over burdened with eggs in the environment.  Therefore, if we target our deworming to these super shedders, you can protect the other animals (80% of your herd!) with minimal deworming!
Another term that we have to become familiar with to understand the point of strategic deworming and prevention of parasitic drug resistance is Refugia.  Refugia refers to the portion of the population of parasites that do not carry any drug resistance.  These are the weak parasites that are easier to kill, the ones we would rather have in our pasture.  The higher proportion of Refugia you have in your population of parasites, the more slowly resistance will develop in your animals.  Parasites develop drug resistance from surviving through deworming treatments.  If we deworm more frequently, say every 6 to 8 weeks when the farrier visits, and we use many different kinds of dewormers, then the proportion of refugia, or weak parasites, in the population will decrease and we will see a rise in parasites with resistance to many different classes of dewormer.  Soon, those dewormers will stop working and we are up a creek without a paddle so to speak.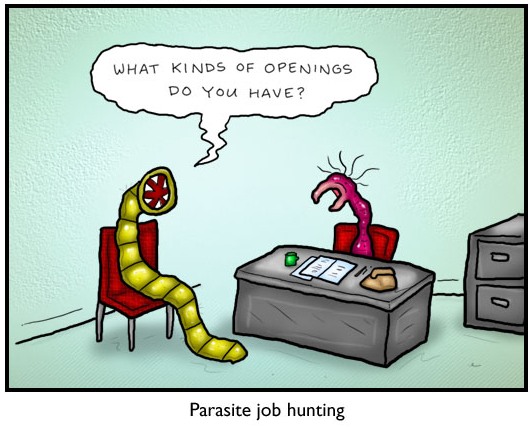 If deworming every 8 weeks with different dewormers is not what is best for the animal, then why for the last several decades have we been told to deworm this way?  Well, for one, we did not know any better.  We were in the golden age of drugs when everything worked and resistance was not a problem.  Now the parasites are "smarter" or "stronger" and we do not have any more tricks in our bag.  Secondly, the parasite of major concern in our horse population has changed.  We used to be most concerned about Strongylus vulgaris, or the large strongyle.  This parasite migrated through blood vessels in the intestines and caused aneurysms and clots that would cut off blood supply to the intestines and cause tragic and deadly colics.  Through our frequent deworming strategy, we have pretty much gotten rid of the large strongyles and stopped seeing these colics, although there is concern of resistance causing a rise in them again.  Now, our major problems are Cyanthostomins or 'small strongyles' and roundworms in young horses.  Adult horses vary greatly in their susceptibility to small strongyle infections and require a more individual parasite control program for these parasites, think 80:20 rule.  Horses develop resistance to roundworms with age, so horses under the age of 3 years old also require a different deworming strategy to combat these parasites.  Unfortunately, resistance to anthelmintics is increasing rapidly in small strongyles and roundworms.
Feel like there isn't a light at the end of this tunnel?  There probably isn't, but we can make that tunnel longer!
8 simple rules for deworming my horses
I will not under-dose my horses or foals; I will use weight tapes or scales to get accurate weights on every animal. This rule includes half-dosing on purpose!
I will use properly performed fecal egg counts and identification to determine the need for deworming on my farm. A good way to start is to bring a fecal from all your horses when they are at least 8 weeks out from an anthelmintic treatment, determine if you have a "super-shedder," and discuss your past deworming protocol with a veterinarian.  Then we can formulate a plan for deworming on your farm.  For the average horse, deworming biannually is sufficient, for others we might need to deworm more frequently.  We can also help direct you as to what products to use and whether it would be a good idea to test for resistance using a fecal egg reduction test or have an ELISA test for tapeworms. Some parasites won't show up on our typical fecal test and will need further testing.
I will decrease my treatments when the weather conditions are adverse and use Mother Nature to help limit my deworming needs. Many parasites, including the smallstrongyle, cannot survive a long, hot dry spell or freezing temperatures.  We can use this to our benefit!
I will learn when, where and how parasites are transmitted and combat them with other methods or proper timing of certain drugs. Small stronglyes, large strongyles and tapeworms are spread in pasture.  Pinworms and ascarids can be acquired in confinement. Keep in mind, not every horse that rubs their tail on the fence has pinworms, some have allergies to fly bites or even a dirty sheath and yeast in between the teats that are making them itchy.  Tapeworms are most easily killed in the fall.  Bot flies are an annoyance in the summer, but can also develop into larval stages in the horses' stomach in the fall and winter.  Therefore, deworming for tapeworms and bots in the fall after the first freeze will get you the best outcome.
I will determine a parasite control program that includes my farm's management. Stocking density, time on pasture, age of the horses on the farm, having an "open herd" or not quarantining new animals, cleanliness of high traffic areas and pasture rotation all have a huge impact on parasite loads.
I will treat horses under 3 years of age as "high shedders." During the first year of life, foals should be dewormed a minimum of four times, starting at 2-3 months of age.  Deworming 3-4 times per year should be continued until they mature.  Horses with decreased immune systems (horses on steroids, with untreated Cushing's disease, or that are pregnant) can also have different deworming needs.
I will save the "big drugs" for the horses that really need it. If your horses show low parasite counts, no clinical signs of parasitic disease and no resistance from an egg reduction test, then we don't need to jump to Quest (Moxidectin).  We can use lighter drugs until the need for stronger drugs arise.
I WILL STOP DEWORMING EVERY TIME THE FARRIER VISITS. Most adult horses benefit from a basic foundation of only one to two treatments per year.  A spring deworming with a drug such as anthelcide, pyrantel or fenbendazole and a fall deworming with an ivermectin with praziquantel should do the trick in most horses. Repeated deworming every 2-3 months in the average adult horse does nothing to improve their health, but does promote resistance.
 Although, the parasites and some of the drugs are different, these basic rules apply to all our farm animals.  We commonly see anthelmintic resistance in our goat and sheep populations both in our area and throughout the world.  Some of our commonly used dewormers are about completely ineffective in some isolated herds reiterating the importance of evaluating the parasite load of the herd through fecal samples to evaluate the effectiveness or lack there of some of the common anthelmintics.  As always, if you have questions, please call our office and we will do our best to develop the best possible parasite control for your individual situation.