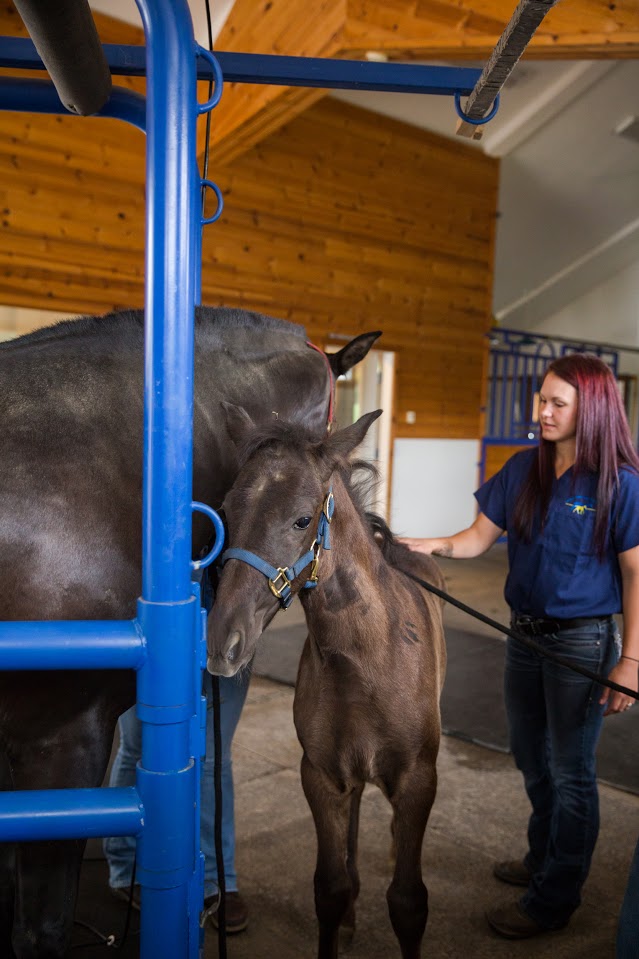 Mare Services:
Services include a breeding soundness exam, uterine culture and cytology, uterine biopsy, rectal palpation and digital ultrasound, artificial insemination with fresh or frozen semen and pregnancy diagnosis and fetal-sexing. Complete breeding packages and mare management for Live Cover and Artificial Insemination with chilled and frozen semen are available. With the exception of AI with frozen semen, all of our mare services can be performed in the field or at our clinic.
Stallion Services:
Our stallion services include a breeding soundness exam, training to mount the breeding phantom, semen collection and evaluation and shipping of fresh semen. Stallions are collected multiple times and semen is evaluated for motility, morphology and longevity. If you do not have access to a breeding phantom, we request that your stallion be brought into the clinic for collection and evaluation.
Foaling Services:
Our foaling services include in-hospital monitoring of the mare as she reaches the end of her pregnancy, assisted foaling, emergency treatment of dystocias and assistance for retained placentas. Our post-foaling services include a placental examination, neonatal examination 12-24 hours post foaling (physical exam, neonatal vaccinations and stall side foal IgG SNAP test), plasma transfusion in foals that did not receive adequate colostrum (failure of passive transfer of the maternal antibodies) and intensive monitoring for sick or premature foals.